Back from Megacon. Good and bad news.
Good news - I had fun at the convention. Thanks to everyone who stopped by the table. It was great seeing all of you. For those of you who picked up prints, books, etc, I hope you enjoy them!
Bad news - The night before the convention, someone stole our car - a red 99 Honda Civic HX tag 354IWT (photos of it:
[link]
. If you live around the Orlando FL area, please keep an eye out for it and call the police if you see it. Most likely places it would show up are in a parking lot or abandoned on the side of a road. Needless to say, that put a damper on my enjoyment of the convention, and it couldn't have come at a worse time as I am currently in-between jobs.
As I understand it, if the car doesn't show up within the next 30 days (and from what I've heard, the chances of it being found, especially in one piece, are pretty slim), insurance pays for the "blue book" value of the car minus a thousand dollar deductible. This will not be enough money to replace the car.
EDIT: Thanks for all the well wishes on this journal entry. My stolen car was never found, so it's now the property (at least, the keys and title to the car) of the insurance company. C'est la vie.

If you've been meaning to pick up one of my books, prints, or original art, now would be a great time.

Here's what's available:
Peach Fuzz graphic novels v1-3:
[link]
Drawing, coloring, and comicking how-to books (Draw Furries, Digital Manga Workshop, Mangaka America):
[link]
Glossy prints:
8.5"x11" are $10 each, 11"x17" are $20 each, plus shipping.
To purchase a print:
1) Browse my website gallery:
[link]
2) Click on the picture you're interested in
3) In the description under the picture, click on your desired print size option and click "add to cart". That's all, you're ready to order!
Original artwork:
From Domo, Sabrina, Peach Fuzz, etc.! Check
[link]
to browse currently listed pages. Looking for a particular page? I have more pages available. Prices range from $35 to $150+ for a specific page, or $35 for a random page with a character of your choice (plus shipping). Original sketches to one of the images in my gallery are priced on a case-by-case basis. Just send me an email at LCibos@jaredandlindsay.com with your wishlist and I'll let you know if I have it and the price.
Amazon
I have an Amazon store with a list of graphic novels, how-to books, and art books either by or with contributions from me (though it helps more if you buy those books directly through me). Also check the right sidebar on the page for my recommendations for other how-to books and global manga. Click picture below to go to the Astore.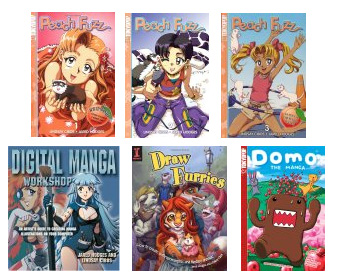 Thanks, all!