News
----------------------
Jared and I will be speaking at the 5th Annual Greater Rochester Teen Book Festival on Saturday, May 15, 2010 9:00am-5:00pm. Click
here
to go to their website for more details. If you're planning on being in Rochester, NY on that day, please come by and see us! Admission to the event is free, and they have a great lineup of authors. We'll be doing several talks about creating graphic novels during the day, as well as a book signing.
General Info
----------------------
Draw Furries - New how-to draw book!
My new how-to draw book,
Draw Furries - How to Create Anthropomorphic and Fantasy Animals
, is 128 full-color pages packed full of tips about drawing anthropomorphic characters and animals written and illustrated by me and
Jared Hodges
. It contains step-by-step anatomy, poses, and species-specific details (wings, tails, eyes, fur, feathers, claws, etc.!) for feline, canine, equine, rodent and avian characters, plus coloring and backgrounds! It's available in bookstores nationwide (Borders, Barnes & Noble, and
online at Amazon
). Check for it in the art/art tutorials sections and give it a flip through. I also have some sample pages up on my website:
[link]
Other Books by me!
Click on the image below to see a list of graphic novels, how-to books, and art books either by or with contributions from me! Also includes my recommendations for other how-to books and global manga!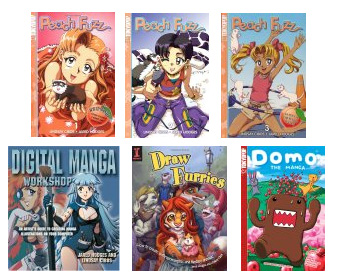 Comic Pages and other original artwork for sale
From Domo, Sabrina, Peach Fuzz, etc.! Check
[link]
to browse currently listed pages. Looking for a particular page? I have more pages available. Prices range from $35 to $150+ for a specific page, or $35 for a random page with a character of your choice (plus shipping). Original sketches to one of the images in my gallery are priced on a case-by-case basis. Just send me an email at LCibos@jaredandlindsay.com with your wishlist and I'll let you know if I have it and the price.
-Comic page originals from Sabrina The Teenage Witch are 11" by 17", inked, from issues 92 and 98.
-Comic page originals from Domo are 11"x17" pencils.
-Comic page originals from Peach Fuzz are 11"x17" pencils.
Prints
High-quality Giclee prints are available in both 8.5"x11" ($10 plus $3.50 shipping) and 11"x17" ($20 plus $3.50 shipping) sizes, and I'll be happy to sign it.

To purchase a print:
1) Browse my website gallery:
[link]
2) Click on the picture you're interested in
3) In the description under the picture, click on your desired print size option and click "add to cart". That's all, you're ready to order!
Peach Fuzz graphic novel series
Peach Fuzz is a comedy about a prissy ferret named Peach and her young owner. Volumes 1 -3 are available in bookstores! If they don't have Peach Fuzz in stock at your bookstore, please ask them to special order it. I strongly encourage special ordering, as that's the best way to spread the word about Peach Fuzz, but if that's not possible, you can always place an order through my website (Jared and I will even sign the books for you):
[link]
Peach Fuzz volume 4? Regretfully, vol. 3 is the final book for now, but we'd love to do more. If you'd like a 4th volume, please let Tokyopop that you want more Peach Fuzz! Here's how:
1) If your local bookstore does not stock Peach Fuzz, please help out by a special ordering copies of the book. This is the best and most effective way of showing that you're interested in a title.
2) Spread the word! Encourage your family and friends to also support the series.
3) Give out copies as birthday presents for younger sisters, brothers, cousins, etc!
4) Write Tokyopop and tell them you want more Peach Fuzz books!
Thanks for the support!
A note about Notes...
Please, no notes! Email me instead! I DO read the notes, but I'm really bad about replying to them, because I'll read them, and then forget about them. If you need a reply, please, please, please use my e-mail address instead: LCibos@jaredandlindsay.com. Thank you so much!
Comments and favs
Finally, I want to take a moment to thank everyone who has either faved a picture, watched me, and/or commented. Although it's not always possible to comment back, I do make it a point to look at everyone's deviantArt site who has done one of the above. Thanks everyone!

You guys make me smile. Love all of you!



Links to check out:
For more art and information, see my official web site, The Art of Jared and Lindsay:
[link]
Peach Fuzz Info:
[link]
Etsy shop:
[link]
For updates on my life, see my LiveJournal:
[link]
For mini-updates, my Twitter:
[link]
Last.fm profile:
[link]

My itty-bitty margin sketches:
[link]

Jared Hodges (Peach Fuzz co-creator):
[link]

Channy-langa (the cousin-langa

):
[link]